Broadway bicycles had a "Ride on Washington" fundraiser, and you are invited to the after party!
From the email
———————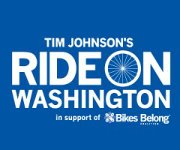 5 days, 477mi from Boston to Washington, DC.
The bike ride for more bike rides.
Come celebrate at the after party!
Date: Â Thursday, March 29th
Time: Â 7:30-9:30 pm
Place: Â Broadway Bicycle School, 351 Broadway Cambridge
On March 16, Tim Johnson and a dedicated crew of riders, racers and advocates departed Boston on their bikes to ride to the National Bike Summit
in Washington D.C. Their goal – to raise funds and awareness for the Bikes Belong Foundation, one of the most effective non-profits in America. Bikes Belong manages to convert every dollar it receives into $1,800 in government funding for bike paths, bike lanes, bike programs and bike facilities. Visit www.bikesbelong.org for more information.
To continue the momentum and give something back to folks who've donated, the team will be hosting an after party reception at the Broadway Bicycle
School in Cambridge, Mass. During the evening folks will have a chance to win some amazing raffle prizes including:
* $200 in Gift certificates to Broadway Bicycle School
* A hand-built set of wheels (You provide rims and hubs, I provide spokes and labor – $200 value)
* Certificate for a helmet from Mavic
* 2 $200 retail Limar helmets from J&B Importers
* A bunch of awesome bike commuting accessories courtesy of Seattle Bicycle Supply
* And more stuff on the way…
Show your support and come on by for a really fun night with some truly inspiring people!
The Bikes Belong Foundation is a 501c3 nonprofit organization focused on improving bicycle safety and enhancing children's bike programs. It administers the Safe Routes to School National Partnership, supports the Bicycling Design Best Practices Project, and directs the Peopleforbikes.org campaign. Learn more at www.bikesbelong.org
You can still donate online here:
http://www.bikesbelong.org/bikes-belong-foundation/donate-to-bikes-belong-foundation/